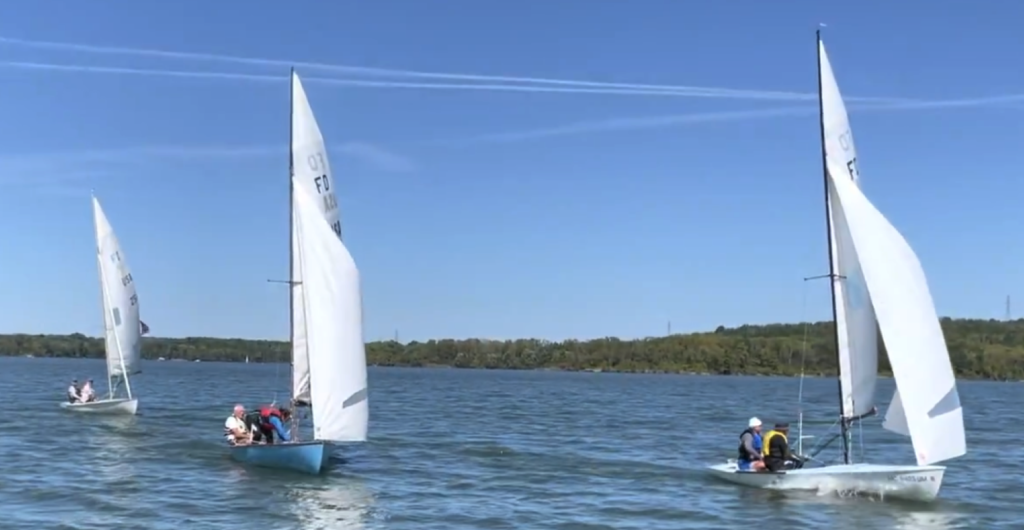 This September Paul Hemker has organized the Oktoberfest Regatta on Brookville Lake, Indiana. This is a beautiful lake, about 10mi long and 1mi wide, with good wind and warm water, and located here: https://goo.gl/maps/o2eqwgyHQe45KU7B8.
We had 3 Flying Dutchman boats reaching the location and competing seriously while having fun and enjoying the venue. This was a true Three Amigos event, where we got to meet new people, make new friends, and comment on the various rigging innovations that the open design of the Flying Dutchman class allows. While the event was located in Indiana, we had teams coming from Ohio (Paul Hemker), Michigan (Peggy Menzies, Razvan Adam, and Ovidiu Adam), and Missouri (John Bick and Rick Mitchell).
The Race Committee has succeeded to run all the 7 races scheduled in two days. The first day the wind blew 10kn with gusts of 20kn, while on the second day it dropped to about 8-19kn.
We did enjoy very welcome and highly appreciated meals at the end of each of the days on the picnic area on the beautiful lawn near the ramps. The venue is easy going, and allows boat launch from both the dolly and the trailer. And best of all, cars may be parked near the boats.
Overall the three participating teams have won the three places on the podium in a win-win outcome where friendship, fun and the beauty of sailing the Flying Dutchman were the most valuable prizes. I am looking forward to return for the next event hosted here.
Pictures and videos are available here, courtesy of Daniel CaJacob, our PRO:
Photos: https://photos.app.goo.gl/PjR5VJr1CY5KmzzW9