The Canandaigua Dinghy Regatta was held at Canandaigua Lake on July 28-30, 2023. The Canandaigua Yacht Club hosted. Jonathan and Anna Gorbold organized the event and were the PROs. As former FD sailors, Jonathan and Anna know Canandaigua very well. Jonathan and Anna were assisted by members of the Canandaigua Yacht Club. Once again, Jonathan, Anna, and yacht club members did an excellent job. The Flying Dutchman Class is very grateful to Jonathan and Anna and the Canandaigua Yacht Club for their support. The galley at the Canandaigua Yacht Club prepared excellent food. Everyone had a great time socializing in the club on Friday and Saturday evenings.
Sailors came from California, Tennessee, Indiana, Michigan, Pennsylvania, Long Island, and Maine to attend the regatta. Paul and Pavel put in long days and evenings refurbishing a 1987 Mader to get ready for the event. Lee refurbished a 1987 Lindsay. Both boats looked great and sailed well. Paul and Pavel had some breakdowns, but in the two races that they sailed, they got two bullets!
Races were held on Friday and Sunday. No racing was held on Saturday due to the threat of lightening storms. Winds varied over the course of the regatta from light and shifty to full trapeze. It was great Flying Dutchman sailing!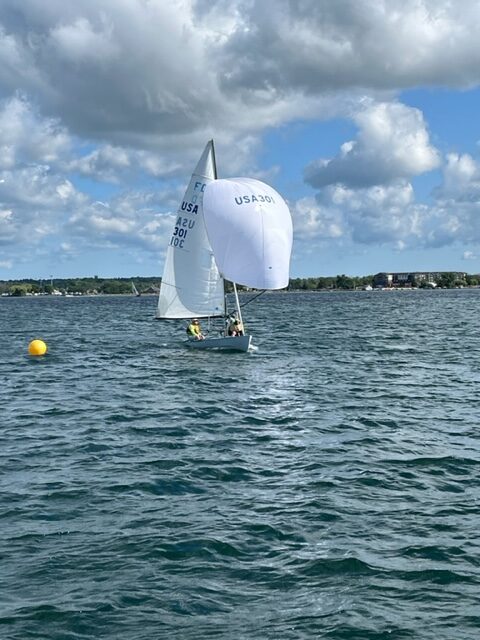 | Rank | SailNo | HelmName | CrewName | R1 | R2 | R3 | R4 | R5 | R6 | R7 | R8 | Total | Nett |
| --- | --- | --- | --- | --- | --- | --- | --- | --- | --- | --- | --- | --- | --- |
| 1st | USA 153 | Doug Dommermuth | Jason Breeden | 1.0 | 4.0 | 2.0 | (4.0) | 2.0 | 1.0 | 1.0 | 1.0 | 16.0 | 12.0 |
| 2nd | USA 8 | Ovidiu Adam | Razvan Adam | 3.0 | 1.0 | 1.0 | 2.0 | (6.0) | 3.0 | 2.0 | 2.0 | 20.0 | 14.0 |
| 3rd | USA 301 | Jeff Wrenn | Chris Wrenn | 2.0 | 2.0 | (4.0) | 3.0 | 3.0 | 2.0 | 3.0 | 4.0 | 23.0 | 19.0 |
| 4th | USA 1486 | Lee Costello | Dan Baker | 5.0 | 3.0 | 3.0 | 5.0 | (5.0) | 4.0 | 5.0 | 3.0 | 33.0 | 28.0 |
| 4th | USA 1197 | Chris Liberti | Emily Swanson | 4.0 | 5.0 | 5.0 | (6.0) | 4.0 | 5.0 | 4.0 | 5.0 | 38.0 | 32.0 |
| 6th | NZL 145 | Paul Scoffin | Pavel Ruzicka | DNS | DNS | (DNS) | 1 | 1 | DNS | DNS | DNS | 44.0 | 37.0 |