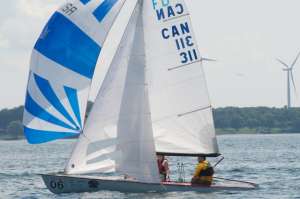 Hurricane Irene had several effects on the regatta held in Kingston, Ontario this past weekend.
After racing Friday night, NED 308, the team of Willem and Maarten, had to return to Connecticut to prepare for the storm. Their home is in Darien,CT, right in the expected track area .
We did have two good days of racing, with beautiful, but on the light side breeze conditions. Saturday morning all of the weather data was pointing to a rainy and very breezy day Sunday, so the decision was made to break down and not sail the last day of the weekend. All the data I saw the next day indicated that was a good call, winds with gusts in the thirties.