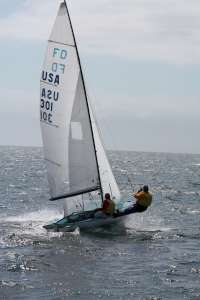 By Kurt Hemmingsen
It was a tough start for the FD Nationals at Santa Cruz on Friday. The weather forecast for the weekend promised light winds from WSW, typical for the time of the year, however the local sailors knew better and warned participants on shore that the breeze typically fills in and sure enough we ended with heavy air, 15-18 mph from SW, gusts to exceed 25 mph which is nothing for the enduring FD's, but requires skills and perseverance.

After the first day of racing, we managed 3 races, however only one FD made it to shore without capsizing, and several competitors had to retire. US-36 a brand new Mader '12 skippered by Lin Robson, of St. Petersburg, FL (SPYC) and his crew Ian Gregg out of Brisbane, Australia lead by three solid bullets followed by local US-1453 Buzz Ballenger from Santa Cruz (SCYC) and his crew Kurt Hemmingsen in second and US-251 Tim Sayles also SPYC and his crew Ondrej Lehecka from Seattle (Czech Republic originally) in third despite having to retire after a dramatic capsize. Going into last race of the day, a massive rain storm swept across the race course to reduce visibility to less than 100 yards, which launched the boats on 6-8 ft. rolling surf at top speed of 20-25 mph. Local US-1 skipper Zhenya Kirueshkin-Stepanoff of SCYC and his local crew Evan Diola (SCYC) had to retire with a broken goose-neck.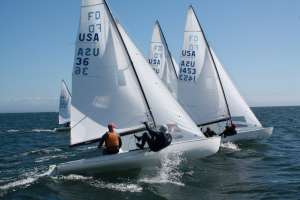 Saturday turned out to be a better day with a little less breeze on the course. "The Wounded Moose Deuce" US-1445 from Seattle skippered by Peter Carr of Sloop Tavern Yacht Club and his courageous crew Eric Andersen made it through three races to finish competitively in fourth overall, followed by local sailor Gordon Dollar of SCYC onboard "Betty Boop" US-1454 and his crew, Oregon based, Duane Ehleringer, who also owns Pacific Flying Dutchman where he builds all-carbon FD's. Competing in US-88 Mike Meszaros from Inverness YC and his Austrian crew out of Sacramento, Gerhard Panuschka had a bad spill and capsize in 1st race, filled the bulkhead with water which unfortunately ended their day.
Luckily, US-251 with Tim and Ondrej made it to the starting line despite an all-night rudder and tiller repair effort. They improved their performance to finish second for the day, still in third overall after US-1453 Buzz with substitute crew, Evan Diola in second by a 3 point lead. The regatta leader, US-36 Lin and Ian remained untouchable with a straight line of first finishes.

Sunday, Oh Happy Day arrived and the weather Gods had mercy on the competitors. We finished up with two light wind races, but no less drama in the middle of the fleet. The Wrenn brothers in US-301, Jeff and his crew Chris of Severn Sailing Association in Annapolis, MD were determined to finish in good style and mix it in the top of the fleet with a best finish in last race in third. We saw some big wind shifts on the course, positions changed frequently and it was Tim and Ondrej in US-251 who came out best of the day aside from the leader. US-1452 a classic '84 Mader skippered by local SCYC sailor, Jean Jimenez (JJ) and his crew Peter Henck made it around the course to recover from the prior races challenges.
A dominating winner of the Flying Dutchman Nationals 2014, congratulations to US-36 by Lin Robson and his Aussie Crew Ian Gregg who sailed a terrific regatta and good luck at the Sydney FD Worlds in December!
Overall top finishes 7 races, 1 throw-out:
1. Lin Robson, SPYC, US-36 and Crew Ian Gregg – 7 points
2. Buzz Ballenger, SCYC, US-1453 and Crew Kurt Hemmingsen and Evan Diola 17 points
3. Tim Sayles, SPYC, US-251 and crew Ondrej Lehecka 18 points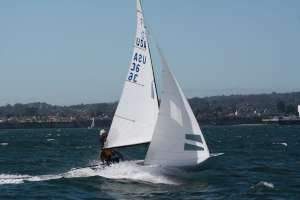 All in all, a great regatta fantastic job of the race officers and volunteers of Santa Cruz Yacht Club, led by PRO Mr. John Buchanan.
Pictures by Krystle Quynh Pham