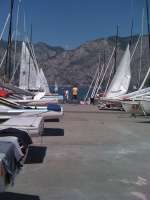 Things have been hectic for everyone as spouses and friends arrive, making connections, figuring out how to meet up and, for me, dealing with a cold. Paul Hemker, John Best and the rest of the measurement team have now processed most of the 135 boats competing here. 135 boats, 19 countries. I haven't had confirmation, but this may be the largest World Championship the class has ever had. This is how it is being reported in a local Italian press release. You'll have to do the translation yourself! Watch that page (now on the "Racing at Garda" menu item above) as it may have ongoing results. We'll keep you posted on that.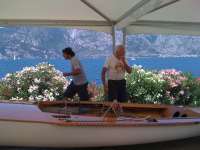 Waking up every morning here at Garda is really thrilling. Overlooking the lake on the side of the mountain we can see dozens of kite and wind surfers taking advantage of the early morning wind. Hearing churchbells bup and down the shore as we sip morning expresso.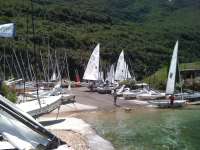 Today we have a practice race and will see how we manage 135 boats on a start line.  There is a rumor the fleet may be split, but we shall see.  We have been comparing notes on the winds here as all boats have been out practicing. A variety of patterns that do shift from day to day.   This evening we all participate in a parade through the town.