By Tim Sayles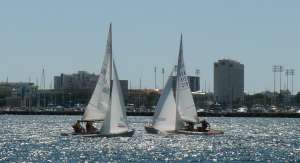 The 2014 NAs proved to be three days of working through issues, arrangements and curious weather passing through the Tampa Bay area.  Veteran PRO and FD sailor Dave Ellis ran the racing out of the St Petersburg Sailing Center, setting  windward/leeward courses relatively close to the harbor entrance.  The changing conditions interacting with shore effects were challenging and put a premium not only on boathandling but also quick responses.  The last weekend in April was in a transition period on Tampa Bay.  During this time the Gulf water temperature is still low enough to allow sea breezes to develop on the Bay, but also bookend fronts that typify spring weather still influenced overall patterns.
Day one racing was postponed to mid afternoon when a light westerly sea breeze provided many localized band of pressure and headings.  A transition point between shore shadow and steady bay breeze caused many position changes.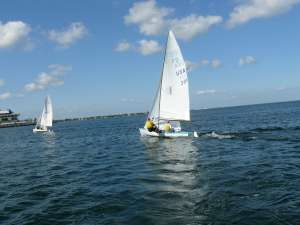 The breeze lightened and reversed direction during the second race.  Downwind became upwind on a couple occasions for those lucky enough to have wind.  By the end a good easterly filled in but not before knocking down a couple boats with auto-tacks.
The rest of day one had 3 more races with solid wind that still had plenty of tricks to play as boats approached the windward mark that was under the shore shadow.  Lin Robson and first day crew Zack Marks turned in good performances with multiple bullets.  Wrenn brothers had second with new team of Peter Commette and Stan Hyatt in third.
Day two again started in the afternoon but with solid breeze shifting from north to west.  Again Dave set windward/leeward courses close to land.  With better and more consistent pressure, the racing was tighter and had fewer surprise lead changes but was close and positions changed frequently.  At its peak wind, some teams had gone up to second grommet.  Tim and Scot improved in the overall standings but the top three stayed in place.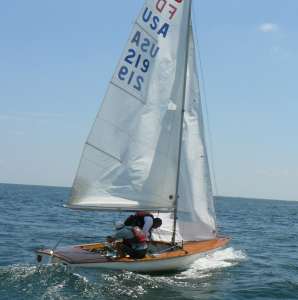 Lisa Robson provided a wonderful dinner Saturday evening on their back patio.  The fleet assembled a number of good wines that nudged many conversations away from normal race replays.
Final racing Sunday started early to accommodate packing and flight schedules.  The breeze was light but workable.  Again some rapid fire wind shifts that turned runs into upwind legs close to finish lines.  Lin and new crew Tony Francis were overtaken on a couple occasions but retained overall first place standing. The top three places did not change from day one, however as an indication of the competition, the spread of scores grew relatively closer.  It was a good regatta with interesting new teams and change-ups.
Anticipating the Australian Worlds and a west coat National Championship later this year, boats were packed on the class trailer and shipped north prior to the trip west.
Special thanks to fellow FD'er Doug King who couldn't sail but came down to check out the FDs, help Dave and Bill Hyatt on the race course and took the photos shown here.

 
North American Results by Dave Ellis, PRO
Held April 25-27, 2014, St Petersburg Sailing Center
| Place | Sail# | Skipper & Crew | TOTAL | 1 | 2 | 3 | 4 | 5 | 6 | 7 | 8 | 9 |
| --- | --- | --- | --- | --- | --- | --- | --- | --- | --- | --- | --- | --- |
| 1 | 36 | Lin Robson & Zach Marks, Tony Francis | 10 | 1 | 1 | 1 | 2 | 2 | 1 | -3 | 1 | 1 |
| 2 | 301 | Jeff & Chris Wrenn | 19.5 | 2 | 2 | 2 | 3 | 3 | 2.5 | 2 | -4 | 3 |
| 3 | 219 | Peter Commette & Stan Hyatt | 23 | 3 | -5 | 4 | 1 | 1 | 4 | 4 | 2 | 4 |
| 4 | 251 | Tim Sayles & Scot Shuman | 24.5 | -5 | 3 | 5 | 4 | 4 | 2.5 | 1 | 3 | 2 |
| 5 | 3 | Paul Hemker & Dan Elliott | 36 | 4 | 4 | 3 | 5 | 5 | 5 | 5 | 5 | DNF |