By Dave Ellis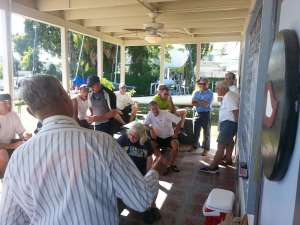 Florida's Gulfport Yacht Club hosted the Flying Dutchman Nationals on lower Boca Ciega Bay in their usual style of minimal on-shore amenities and great on the water racing. The fleet was smaller than some Nationals because of a scheduling conflict for the West Coast fleet. The quality, however, was very good.
Lin Robson with crew Arthur Anosov of Saint Petersburg was the clear winner with nine first place finishes among the twelve races. While some of these races were easy wins for this many-time champ, other races took some time to get to the front of the fleet.
Second place went to Buzz Ballenger and Kurt Hemmingsen of Santa Cruz, California. After a stellar two days they faded on the last day of racing, but still saved second over Jeff and Chris Wrenn of Pennsylvania. Competitors from California, Vancouver, BC, Ohio and Philadelphia, along with local Florida sailors raced.
Six races wore out the competitors and the Race Committee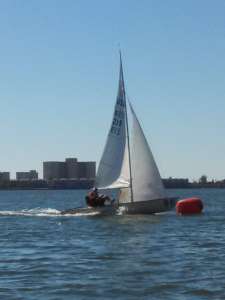 on Friday, with a fresh breeze feeding an oncoming weather front. Saturday dawned rainy with storms. While the plan was to sail in the Gulf of Mexico, when it was heard that St. Petersburg Yacht Club had rescheduled their PHRF racing out there, the FDs stayed in the bay. Ironically, that afternoon there was a long wait for any wind at all, finally allowing for two light air races. Sunday had a delightful 8 – 15 knot northerly wind, very close racing and many place changes among the fleet. The Race Officer (me) put the weather mark not far from the shore, resulting in many shifts and puffs that the lake sailors appreciated.
| Boat | Race | 1 | 2 | 3 | 4 | 5 | 6 | 7 | 8 | 9 | 10 | 11 | 12 | Overall | Place |
| --- | --- | --- | --- | --- | --- | --- | --- | --- | --- | --- | --- | --- | --- | --- | --- |
| | | | | | | | | | | | | | | Points | |
| 36 | Lin Robson/Arthur Anasov | 1 | 1 | 1 | 1 | 3 | 1 | -3 | 2 | 1 | 1 | 1 | 1 | 14 | 1 |
| 1453 | Buzz Ballenger/Kurt Hemmingsen | 3 | 5 | 2 | 3 | 2 | 2 | 1 | 1 | 3 | 7 | -7 | 5 | 34 | 2 |
| 301 | Jeff & Chris Wrenn | 6 | 2 | 5 | 2 | 1 | 5 | 2 | 3 | 4 | 5 | 3 | -6 | 38 | 3 |
| 3 | Paul Hempker/Andreaj Leheca | 2 | 3 | 4 | 5 | 5 | 3 | 4 | -6 | 2 | 2 | 5 | 4 | 39 | 4 |
| 251 | Tim Sayles/Gerhard Panuschka | 4 | 4 | 3 | 4 | 4 | 4 | 5 | 4 | 5 | -6 | 4 | 2 | 43 | 5 |
| 31 | Peter Carr/Albert Smalls | 5 | 6 | 6 | (DNF) | 6 | 6 | 6 | 5 | 7 | 4 | 6 | 7 | 64 | 6 |
| 219 | Stan Hyatt/Peter Commette/Jim Pardee | DNF | DNS | DNS | DNS | DNS | (DNS) | 7 | 7 | 6 | 3 | 2 | 3 | 72 | 7 |
| 801 | Derrick & Josh Hiltz (Junior sailor) | 7 | 7 | 7 | 6 | (DNS) | DNS | 8 | 8 | DNS | DNS | DNS | DNS | 88 | 8 |