The Flying Dutchman Association of the United States, in conjunction with the Santa Cruz Yacht Club, is pleased to announce and host the 2012 Flying Dutchman World Championships in the open ocean waters off Santa Cruz, California – 23 to 30 September 2012.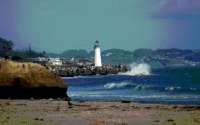 Santa Cruz is one of the finest sailing and recreational venues available anywhere. The experience of the SCYC in hosting outstanding national and world-level events with its informal, friendly and dedicated club members is recognized widely in the Northern California sailing community and by many competitive sailors worldwide.
The seas off Lighthouse Point in Santa Cruz are blessed with daily, westerly winds of 15 to 20 knots and impressive, wind-driven swells that can drive the Flying Dutchman to speeds only dreamed about by bay and lake sailors. It is not uncommon to plane to weather accompanied by leaping harbor seals, sea lions, dolphins and occasional whales. At day's end exhilarated racers can enjoy the warmth and beauty of the small harbor as they discuss starts, crazy mark rounding and other race highlights.
Family and friends can choose to watch the racing, or they can partake of the area's many recreational possibilities, including shopping, hiking in the redwoods, swimming or relaxing at the beach, surfing, or even enjoying the thrill of riding a vintage wooden roller coaster at the historic Santa Cruz Beach and Boardwalk.
The event is being organized by experienced Flying Dutchman sailors, business leaders, staff members and club volunteers, all of whom are dedicated to making this championship event one that will be remembered for years to come.
The Santa Cruz venue will provide a combination of shore facilities, sailing venue, entertainment, and qualified committee members to host the 2012 Flying Dutchman World Championships.
The SCYC has hosted over 7 World's Championships, and 40 National Championships.