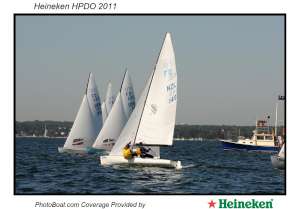 Every year over Columbus Day weekend in October, the American Yacht Club in Rye, NY, hosts the HPDO. HPDO is the acronym for High Performance Dinghy Open. It is a regatta that has become a big fixture in the Fall on the East Coast, with many dinghy classes in attendance. In fact several classes held their North American championships at the regatta this year. They throw a nice dinner and gathering afterward. We had the pleasure of seeing a few FD sailors from years past, it was good catching up with Guido Bertocci and others.
In part due to the effects of Hurricane Irene keeping attendance down during the CORK regatta in August and the desire to showcase the class at a very visible event, the U.S. FD North Americans were moved to be concurrent and part of HPDO.
Competitors from Florida, Pennsylvania, California and Rhode Island were in attendance, ready to take advantage of some usually good sailing conditions at AYC. As it turned out, a high pressure dome settled over the race site during the regatta, keeping the winds very light and the conditions challenging of one's patience! Success depended on connecting the wind "dots" properly and finding what little pressure was out there. Additional things to contend with in the light breeze were the at times strong current and the chop created by motor boats on Long Island Sound.
One particular event at the end of a race was hard to believe. A cruising boat was making it's way across the race course, and even though they had all of Long Island Sound to sail in, came too close to the committee boat in the strong current and entangled themselves in the anchor rode. This, while most in the FD fleet were finsihing. Forunately no one was injured, well physically if not psycologically. The old story about the only two cars in early 20th century Nebraska having a collision came to mind.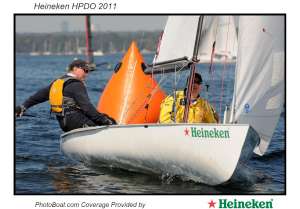 Pavel Ruzicka and Paul Scoffin sailed a fine regatta to become the new North American champs. They accomplished this mostly by doing what is usually related to success, making fewer mistakes and more often than most finding the better pressure in what little there was. Tim Sayles and I wound up second, with all the interesting factors surrounding having two drivers in one boat, and Willem Sandberg and crew James sailed well to third place.
It was good to see Paul Hemker sailing his blue Dusseldorf, and Chris, Kate and their URI mates fielded some other good teams as well. The Wrenn brothers borrowed Paul's Lindsay while their boat is undergoing a major restoration at the Hemker shop.
As you see from the pictures, Photoboat.com was out again this year shooting pictures, thanks to the generous sponsorship of Heineken. You can see more shots from the FD fleet plus the other 100 boats at:
http://www.photoboatgallery.net/f733551720
Midwinters are scheduled for mid January at the St. Petersburg Yacht Club, we hope to see a good turnout and nice Florida conditions and hospitality.
Best Regards,
Lin