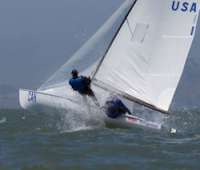 On Friday our container with all our boats and equipment left Genoa for the return trip to the US. On board was an additional boat belonging to Javier Valdes from Mexico, who plans on moving it out to Santa Cruz to participate in preparations for the 2012 Worlds.
The arrangements for all this can be difficult for the uninitiated, but Kurt Hemmingsen and his team from Agility Logistics is making it all happen without skipping a beat. Kurt, an FD sailor with the NorCal fleet, filled us in with some perspectives on shipping boats around the world.
How is shipping sailboats and working with sailors different from your usual projects?
Kurt: Shipping someone's personal items is always nerve wrecking because I know how much the owners care for their FD boats and gear, and I know that the FD boats travel on a schedule to make it to the sailing events in time. Commercial customers apply a fair amount of rationale and have greater tolerance for unforeseen delay and schedule interruption. I am happy to say that I never had to tell a sailor that they couldn't sail an event because their boat was left behind or delayed on schedule.
It is very typical that loading of boats into containers commence shortly after a regatta. We all want to use our FD boats longest possible and while they are on the water we have no use of them, so we try to plan it so FD boats are available for use as long as possible and on arrival as early as possible. This makes for a tight shipping window. I am fortunate that I work for a very large logistics company, Agility Logistics, with a global network which comprise of more than 550 offices. I have colleagues in every corner of the world to step in and help if containers are not moving as planned. We have Customs experts in proximity of all major sea ports. Because this is important to FD sailors, it is equally important to our team to make sure that their expectations are met.
What is the best way for sailors going to World events to organize for shipping boats?
Kurt: We will need to decide on a venue, date and time for loading; typically a regatta or location where we can coordinate loading containers. The boat owners have done this before and know how to do it. I wouldn't trust the job to a 3rd party who normally load stacked pallets in a container using a forklift.
We need one point of contact, a coordinator for loading, paperwork and communication. We need 6 FD boats per each container from each agreed upon location. We can position containers most anywhere in the world for loading and unloading if we plan in advance. Security, Compliance and Customs regulations is important because it may impact our end-to-end shipping time. Therefore paperwork has to be done in time, and has to be accurate. I help FD sailors make sure that we get it done right, not to cause any delay.
Container ships rotate in fixed schedules, just like trains, buses and planes. We have some flexibility in choosing a carrier and booking a particular sailing, but once a container has been loaded, we depend on weekly departures and arrivals, so missing a cut off or deadline can add cost. If a container has to wait for next departure this could also mean that it does does not get to Santa Cruz in time for the event, so we have to be realistic about transit time, leave ourselves an extra week for slack time to make sure that boats get there in time, rather sooner than later.
Finally, FD sailors needs to commit themselves – say what you are going to do, and do it please! There is nothing which can throw off planning more than if suddenly one boat show up late, or not at all, or paperwork is not done in time – think about it. You may be the reason that 5 other sailors are not making it to the worlds in time.
As one of the organizers for Santa Cruz next year, do you have thoughts on how shipping can or will be handled for that event?
Kurt: It entirely depends on the commitment from the FD communities in Italy, Holland, Germany, Spain, UK, Australia and New Zealand. The sooner we can get a head count, the easier it will be to decide on an ideal venue to load containers. We have access to 18 different container carriers, and we have contracts with all of them to handle more than 1/2 million containers annually, so we have some flexibility as far as transportation and storage cost is concerned. Scheduling is important and we look at several options to make sure that the carrier we choose to work with has a reliable schedule, with least transshipment points, most direct routing and a high service quality level. We would love to see one of our core carriers sign up as key sponsor, but time will tell if we can attract their attention. There is a lot of competition for sponsorships.
We will coordinate schedules into Port of Oakland, about 70 Miles north of Santa Cruz, where the containers will be delivered and stored for the duration of the event, right in the marina. We have boat hoists to help us unload and re-load containers and the layout is really ideal. No matter how the wind blows, anyone considering attending the worlds should ship their FD boat latest mid August, 2012 in order to arrive in time for measuring on Sept. 24th
I will be there to receive the FD boats, and I will personally guide the containers from the origins to Santa Cruz so we can enjoy some great racing together.