A better day for the US team. Paul and Pavel led at the first mark on the 1st race; got passed by Hungarians in the 2nd reach. Stayed in touch and 4th in that race, 2 boat lengths behind 2nd place. Pretty exciting stuff. Staying on top requires not only good starts in such a large fleet, but also consistency in boatandling that minimizes mistakes. HUN 70 has been sailing together as a team for many years and in addition to being great sailors, their teamwork is really something to see…if you get close enough to watch!
The wind was stronger as the fleet left the club, so much that pretty much everyone had preset on second grommet. However it backed off a bit and back down to 1st the fleet went. The lighter – although still full trapezing breeze meant back to close left shore hugging as the center lake pressure got noticably soft.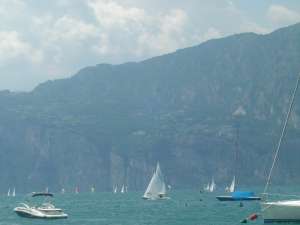 In the 2nd race Lin and Richard were 2nd at the top mark and held on to finish with a great 3rd placing. The wind had kicked back up, going to to near 2nd grommet conditions. Here, the left was still favored but a transitional band developed between shore and center breezes that could be quite gusty and a helming challenge.
Paul and Pavel were 12 th until last beat and then broke their boom and had to retire. The gooseneck insert fitting separated from the boom section. Serge and Tim had their own damage issues. As they avoided a particularly ugly gybe mark rounding mashup of 5 other boats, an AUT boat came flying into the fray and hit 251's hind starboard side, taking out a chunk of rail. Yes, a protest was called. AUT acknowledged.
After Race 6 the fleet was reassigned to a Gold and Silver fleet for the final 3 races, based on standing. Current results here. Lin and Paul attained Gold status while Jonathan/Nigel, Paul/Peter and Serge/Tim decided Silver was more to their liking. 3 races left. Interestingly, the reserve day was scheduled for the last day, which means WC 2011 could be over Friday.