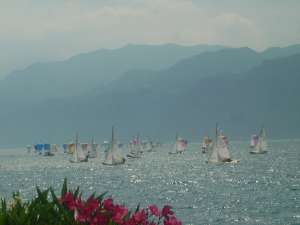 Garda revealed more patterns on Day 2 as more wind filled in, particularly for the second race of the day. With more pressure, winds were more even over the course allowing for more open lanes to develop. As on previous days, most of the fleet went left toward the shore but rather than short tacks up the side, ventured out toward the center. A number of boats went right. Because sections of the course there were lifted and with fewer boats to maneuver around, they did reasonably well.
Serge and Tim planned to go right on race 1. But after a reasonable start, could not find a lane to go right and when they did, fouled a boat when attempting to duck. After a 720 they were well out of the pack and off pace. On the second reach the spinnaker pole launch line broke. So they decided to take a DNF and headed back to shore for a quick repair in order to be ready for the second race.
Coming in at the same time was FD builder Dirk Bogumil (GER 199) with a foot long gash in the side of his brand new boat. Ouch! The rear of the boat had plenty of water. Dirk was out for the day, but after a quick patch appeared ready for Day 3.
Lin and Richard in USA 36 had reasonable two races, though not as good as the previous day. Taking advantage of the time between races, Lin came back in for a quick fix on some headsail issue. Paul and Pavel had a much better pair of races, finding stride and no major issues.
Jonathan and Nigel struggled some along with others and had some issues as the wind piped up in the second race. Almost the entire fleet was on the second grommet. One of the interesting features of the left side during this second race was that it was possible to go too far into the bank. While some found better lift, it was at the price of more turbulent breezes that began to wrap round points along the shore. Again, more lessons to put into the lexicon of Garda breezes.
After racing a dinner with music was provided at the sailing club.  Anna Gorbold had organized a trip to Venice for the day and could not be there.  (We expect a full report!)  Tim and Vicki took their entourage to dinner in the town and enjoyed more of the shops and sounds.