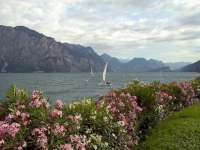 The Practice Race held on Sunday include one start for the entire fleet as the new Sailing Instructions were not yet available. The warning was to be at 13:00 but was moved to 15:30. An initial start that included over 100 boats was abandoned as it was not apparent where the start line was. A local police RIB launch was there with a mark on board but seemed an unlikely mark and about a third of the fleet moved up to what was a wing mark. Realizing the mistake at about 1 minute, all the boats started to drive down onto the start line with resulting pandemonium.
A second start allowed the fleet to head off upwind. Most of the fleet headed left, then proceeded to the shore where they commenced to short tack up the side. Sometimes the tacks would take boats 3 or 4 boat lengths off the bank. Then only going out a few minutes before tacking back into the side. What was going on was solid pressure that clung to the side. Sailing back toward the center for a short distance you could feel the pressure drop out, a sign to head back to the shore.
The wind pressure in the center of the lake was quite weak and virtually no one sailed there. Some boats went right, seeing higher pressure. However the wind angle was perhaps 20 degrees lower than the left, so in spite of better speed, the left had significant advantage. The entire dynamic played out the entire race and most learned to stay to the left, hugging the shore. Downwind was the same. Even on the running leg, boats went straight for the shore for the pressure.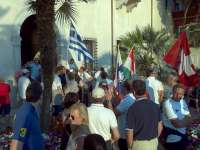 In fact few if any boats actually finished the practice race as the wind was dying, it was close to 17:00 and, well, it was just for practice. However, the lesson was learned: consistent short-tacking skills would likely pay off this week. While locals say the wind patterns change all the time during the afternoon, this is something we will need to be used to.
Tomorrow the WC begins. Off to town we to where we all walked through town in a parade by country to the town green were we were fete with local cuisine, wines and beers. Quite an official opening. An interesting side note, Jonathan McKee was in town sailing a Melges 20 regatta and spoke briefly from the podium, recalling his Gold Medal at Los Angeles.