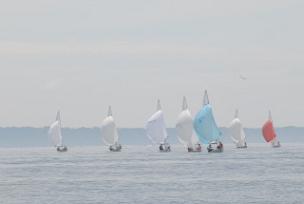 Lin Robson along with GBR crew Richard Philips showed he would not be denied a return to leader of the pack at Flying Dutchman National Championships, hosted by Noroton Yacht Club. Long Island Sound delivered a three day event that had pretty much every condition, although without the 20 plus conditions of the last Noroton event. Strategy, cool heads and perseverence paid off as generally lighter conditions with local breezes but also persistent shifts combined with a variety of current conditions to challenge the competitors the entire regatta.
The local team of Willem Sandberg and Maarten Eenkema van Dijk came in second and also took the Junior National Trophy. While a lighter team in lighter conditions, there was no doubt that Willem and Maarten – who have sailed together for some time in 420 as well as other classes – knew their game. Consistently good boathandling, strategy and maneuvers landed them in the top three in almost all races.
Paul Scoffin and Pavel Ruzicka – last year's Champions – sailed a close third in a shakedown regatta for a completly refurbishished Lindsay. Paul and Pavel were generally first to arrive and last to leave the boat yard fine tuning the new setup. Hopefully we will see some details of Paul's project soon.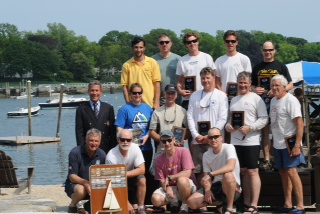 The Carling Trophy for Classic FD went to Chris Liberti and Kate Coupland who did remarkably well in their 70's vintage Vanguard. The team was quite frequently up with the rest of the fleet, at one point holding off Paul and Pavel in a very long and tense downwind leg.
Noroton Yacht Club opened its doors to the class and even allowed the class to have the container on site for the weekend so that boats could be packed for FD Worlds in Italy after racing finished on Monday.
On the water NYC provided very attentive Race Committee work with a number of mark boats to rapidly work out new courses in constantly changing winds. FDs shared the course on Sunday afternoon with the local Sonar fleet but generally had complete attention of the RC. Courses ranged from triangles, windward-leeward and modified Olympic Gold courses, depending upon wind conditions.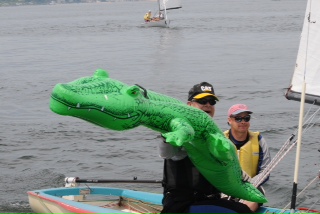 Chris Wrenn recieved the Alligator Trophy, given to the most relocated crew member in the fleet. His enthusiasm for the honor was palpable. Ok, the truth is you can find just about anything floating around on the Sound.
Strategies always included careful attention to currents which played a significant roll all weekend. Closer to shore the current was lighter but could be a knot faster out into the Sound. Depending upon the winds direction and speed, these currents often were game changers.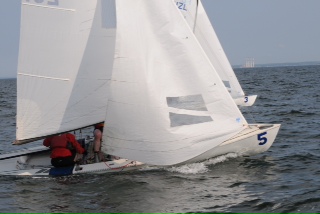 FD 2011 US National Championships Results
Noroton Yacht Club – May 28-30, 2011
Scores take into account 1 discard
| | | | | | | | | | | | | |
| --- | --- | --- | --- | --- | --- | --- | --- | --- | --- | --- | --- | --- |
| No | Sailno  | Name | Scores | 1 | 2 | 3 | 4 | 5 | 6 | 7 | 8 | 9 |
| 1 | 2 | Lin Robson, Richard Phillips | 9.0 | dnf  | dns  | 1 | 2 | (3) | 1 | 1 | 1 | 1 |
| 2 | 1 | Willem Sandberg, Maarten Eenkema van Dijk | 18.0 | 1 | 3 | 3 | 3 | 1 | 3 | (5) | 2 | 2 |
| 3 | 3 | Paul Scoffin, Pavel Ruzicka | 21.0 | 6Â  | 2 | (dnf) | 1 | 2 | 2 | 2 | 6 | 3 |
| 4 | 4 | Paul Hemker, Jason Breeden | 26.0 | 3 | 1 | 2 | (6) | 5 | 4 | 3 | 4 | 4 |
| 5 | 7 | Jeff Wrenn, Chris Wrenn | 33.0 | 2 | 4 | 4 | (5) | 4 | 5 | 4 | 5 | 5 |
| 6 | 5 | Tim Sayles, Serge Leonidov | 43.0 | 5 | 5 | (dnf) | 4 | 6 | 6 | 6 | 3 | dnf  |
| 7 | 6 | Chris Liberty, Kate Coupland | 49.0 | 4 | 6 | 5 | (7) | 7 | 7 | 7 | 7 | 6 |

RDG-results are as follows:
| | | | | |
| --- | --- | --- | --- | --- |
| Â  | 2 | Lin Robson, Richard Phillips | race 1: | 1 scores |
| Â  | 2 | Lin Robson, Richard Phillips | race 2: | 1 scores |
| Â  | 3 | Paul Scoffin, Pavel Ruzicka | race 1: | 3 scores |