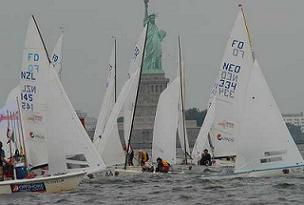 With challenging winds, current and local traffic, part 1 of the NY400 FD Championship completed after two days of racing. The third day of racing for the first regatta was canceled on Thursday due to 30+kt winds on New York Harbor. This resulted in first place for the van der Pol brothers, Bas and Marc of the Netherlands.
Many thanks to Rene A Sosa, a local sailing coach, for the pictures on this page and also for making all these photos available for our use as well. Richard Phillips took all these shots while serving time on the Committee Boat. Well Done, Richard!
And we had PhotoBoat out cruising for all these professional shots. More close ups, nicely organized.
No sailing is scheduled on Friday in commemoration of September 11. Saturday starts the final series of the NY400 FD event, with closing ceremonies and participation in the flotillas on Sunday.