This year attendance at the Cannonball was not up to the usual numbers – but did include 4 boats that had been in CA for the FD Nationals in Santa Cruz and which were delivered to CYC by Paul Hemker. Grand children's graduations, and other commitments, including emergency appendectomies kept folk away.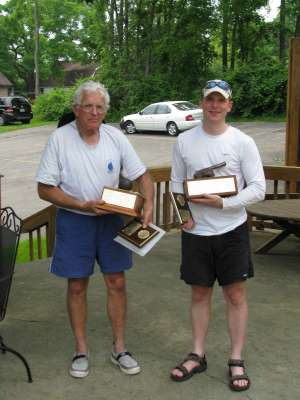 The class trailer bought in boats for Tim Sayles, the Wrenns, the Gorbolds and of course Paul himself. While we all pay for the transportation of our boats to various venus, sincere thanks are due to Paul who is very ably assisted by his wife Heidi, for being prepared to take the time and make the effort to do the driving. It is the class trailer that makes it possible for boats to consider travelling to either Florida or the west coast , something that would be a great deal more difficult without a class trailer and willing drivers.
The PRO managed to run 3 races Saturday morning in good trapezing wind conditions but unfortunately after lunch the wind dried up – the teasing Canandaigua winds lured the fleet out but it was quickly apparent that it was crazy to start a race so every one was towed back in. And that was that for the day – Sue and Dick Raymond provided a tail gate and every one was happy to sit around and chat. Later in the evening we all enjoyed a group meal at the club house while hoping for better winds on Sunday.
Sunday morning we started 5 minutes before the normal club start sequence and as is common the fresh morning drainage, that is always so full of hope, proceeded to die while the first race was on. The FD's missed the time limit to the first mark by one minute. After an extremely frustrating one leg attempt and thinking that was that for the regatta, the wind began to come from the predicted westerly direction and the PRO was able to run two more races. Thus ensuring the se ries ended on a good note.
And so the 51st Cannonball came to an end with good times being had by all. Thanks as always are due to the Management of Canandaigua yacht Club for their h ospitality and the excellent race management. Next year we are hoping to expand the Cannonball to include other high performance dinghies such as Finns, 505's, Contenders and Fireballs. The Cannonball will be scheduled at approximately the same time – the last weekend of June – so stay tuned and come and play!

FD Cannonball 2010 Results – One throw out
| Sail # | Skipper/ Crew | Race 1 | Race 2 | Race 3 | Race 4 | Race 5 | Total pts | Place |
| --- | --- | --- | --- | --- | --- | --- | --- | --- |
| USA 3 | Paul Hempker/ Kevin Roland | 2 | 2 | 1 | 1 | 2 | 6 | 1 |
| USA 301 | Jeff Wrenn/ Chris Wrenn | 1 | 1 | 2 | 3 | 3 | 7 | 2 |
| GBR 367 | Jonathan Gorbold/ Anna Gorbold | 3 | 3 | 3 | 2 | 1 | 9 | 3 |
| USA  251 | Tim Sayles / Graham Sayles | DNS | DSN | 4 | DNS | DNS | 19 | 4 |